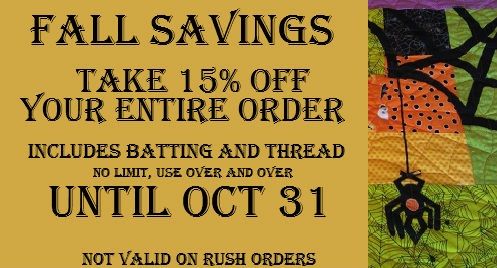 It is my favorite time of year again!  I love the fall with cooler weather and changing leaves.  Its also my busiest time of year with lots of after school homework, garden work, and loads and loads of quilts to be done!   I am settling into our routine quite well.  I am acually enjoying my alone time when I quilt at 5 am weekdays.  It is going great.  Summer expectations were killing me this year.  As fun as it was, I am grateful it is over.
I am in love with this years Halloween pattern.  Spiderwebs!  It is only 1.5 cents and with the discount that is a pretty sweet deal.  And below is a picture of what it looks like quilted.  Isnt that cute?
Just a little side note.   As you all know, I have been experimenting with store hours.  I dont think they are working out very well.  I seriously only had 1 person use the store hours in 2 weeks.  I feel like I am stuck at home for nothing!   I could be buying fabic.  He He.   Well I am going to keep trying it for a week or 2 and see if it takes.   Let me know what you think about them.  Leave a comment or email me.  melissa@sewshabbyquilting.com
Dont forget we give 20% off to all IHC employees.  All the time!
Happy Quilting!